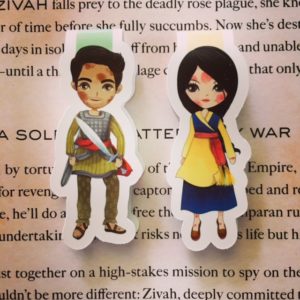 My new novel Rosemarked launches 11/7/2017, and I'm thrilled at the early reception. At the time of this writing, the Goodreads rating is holding steady at 4.15 with 60 ratings. Here are what some early readers have to say about it:
When I picked up this book, I thought it was going to be another cliche, poorly plotted fantasy novel with an unoriginal and badly written romance. I was wrong. So, so wrong.




I wasn't expecting what Rosemarked actually is: a political fantasy novel dealing with the ethics of healing, spying, tyranny, and radicalized patriotism with remarkable world-building, beautifully written and flawed characters, and a slow-burn romance that was enjoyable to read and didn't feel at all forced.



Rachael Sharp, YALSA Teens Top Ten Reviewer
Fans of An Ember in the Ashes and The Winner's Curse should give this a try! I highly recommend it for its complicated look at relationships, war, and healing.



Brittani, Inkdusted
Blackburne's latest is an engaging, mesmerizing read.  With a clever, unique, premise, readers will be drawn into this story from the start.  Zivah is an interesting, strong heroine, and Dineas, with his strength, fight, and passion, complements Zivah's compassion.  Distinctive and easily visualized characters set within an intricate plot is the highlight of this fantasy novel.  Readers will not be able to put Rosemarked down.



Melanie Bates, RT Book Reviews
If this sounds like your cup of tea, I hope you'll consider preordering Rosemarked. Why preorder? Because publishers monitor these numbers carefully, and a strong preorder performance often translates into more marketing and effort behind the book.
For a little added incentive, I've put together some swag packets for people who preorder. There are two offers.
Offer 1: Anyone who submits proof of preorder will receive…
1. A signed ROSEMARKED bookmark
2. A signed ROSEMARKED bookplate
3. A signed postcard with ROSEMARKED map
4. A PDF of bonus content emailed to you with a self edit letter I wrote to myself after the first draft, and an early deleted scene that shows how the book could have gone in a VERY different direction.
Email proof of preorder to liviablackburne@gmail.com before November 7th, 2017. To make my life easier, please include your mailing address in the body of your email, formatted so that it can be copied straight onto a mailing label. If you'd like any of the swag personalized to you, you can also let me know. This offer is open internationally.
Offer 2: Anyone who preorders from Once Upon a Time, my local indie bookstore, will receive…
1. Everything included in offer 1
2. A signed first edition of ROSEMARKED
3. The amazing Zivah and Dineas magnetic bookmarks by Nerdygrldesigns pictured at the top of the page.
You can place your Once Upon a Time Order here. Because of shipping limitations, this offer is US Only. But international people who want magnetic bookmarks, I haven't forgotten you! For international folks ONLY, if you request a magnetic bookmark when you submit your proof of purchase for offer 1, I'll send you one while supplies last.