Welcome to YA Scavenger Hunt Spring 2016! This bi-annual event was first organized by author
Colleen Houck
as a way to give readers a chance to gain access to exclusive bonus material from their favorite authors…and a chance to win some awesome prizes! At this hunt, you not only get access to exclusive content from each author, you also get a clue for the hunt. Add up the clues, and you can enter for our prize–one lucky winner will receive
one signed book from each author on the hunt in my team
!
But play fast: this contest (and all the exclusive bonus material) will only be online for 72 hours!
Go to the YA Scavenger Hunt page to find out all about the hunt. There are SIX contests going on simultaneously, and you can enter one or all! I am a part of the GOLD TEAM–but there is also a red team, a BLUE team, an orange team, a red team, and an indie team for a chance to win a whole different set of signed books!
If you'd like to find out more about the hunt, see links to all the authors participating, and see the full list of prizes up for grabs, go to the YA Scavenger Hunt page.
SCAVENGER HUNT PUZZLE
Directions:
Below, you'll notice that I've listed my favorite number. Collect the favorite numbers of all the authors on the
gold team
, and then add them up (don't worry, you can use a calculator!).
Rules:
Open internationally, anyone below the age of 18 should have a parent or guardian's permission to enter. To be eligible for the grand prize, you must submit the completed entry form by
4/3/16
, at noon Pacific Time. Entries sent without the correct number or without contact information will not be considered.
SCAVENGER HUNT POST
Today, I am hosting
Deidre Riordan Hall
on my website for the YA Scavenger Hunt!
Deirdre Riordan Hall is the author of young adult, including the Amazon bestseller, SUGAR, the recent release PEARL and several new adult titles in the Follow your Bliss series. When she's not writing, she's probably surfing or in pursuit of magic or both. She also has a healthy case of wanderlust, loves salsa, guacamole, and tortillas, and dreams about learning to play piano.
EXCLUSIVE CONTENT
As seventeen-year-old Pearl Jaeger emerges from a gritty childhood, her uncle sends her to a prestigious prep school with the promise of a second chance. But haunted by her memories and reckless with grief when her mother overdoses, she turns to partying with the burnouts, including shy and sweet Grant. All too soon, she's spiraling out of control on the heels of her late mother. But between friendships that turn into sisterhoods, the salvation of art, and Grant showing her what it is to trust and forgive, Pearl must close the door on her past or lose love, along with her future.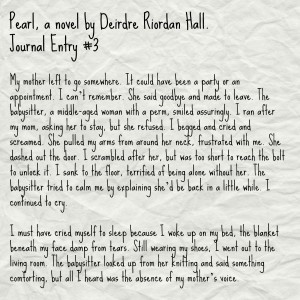 And don't forget to enter the contest for a chance to win a ton of signed books by me, Deidre, and more! To enter, you need to know that my favorite number is
16.
Add up all the favorite numbers of the authors on the
gold team
and you'll have all the secret code to enter for the grand prize!
CONTINUE THE HUNT
To keep going on your quest for the hunt, you need to check out the next author,
Jessica Brody
!